Hat Trick Ball Hockey League
Coed Orleans - Sunday
Weekly Update
And just like that the season is over!
With four finals on the day, we saw the best of the best battle it out with some really good games! We saw a couple of two goal games, and another was decided by just three goals.
In the end, congrats to all four teams that played tonight and put on a great show. To see who was crowned champions, check out and LIKE our Facebook page www.facebook.com/htbhl
Plenty of work goes into a season and we want to start by thanking the captains who lead the teams and run around after spares to ensure a full squad is ready to go each game. Next in line is a big thank you to our refs and scorekeepers who do a meaningful job and never get the full credit or appreciation they actually deserve so to them we say THANK YOU! Last but not least, you players. Thanks to each and everyone of you who play and make this HTBHL family what it is. Since the league began, many friendships, bonds, relationships and HTBHL babies have created and we love seeing that every time you are on the floor!
We'll be sending a feedback email in the next few weeks! Be sure to give us your feedback on anything and everything.
Wishing you all a GREAT summer and for one last time, here are the recaps:
Saved by the Balls (5) vs Goblins (7)
Our first game saw SBTB taking on GOB in this Low-A final. Both teams worked hard all season to make it to this point, and it really showed in their effort. The defense in the first was stifling, as it took eighteen minutes for the first goal, and it came from Tyler Grandy as he banged home a rebound in front. A minute later, he would follow it up with a weird goal, that hit the basketball net, the goalie and straight in. That's how it looked at break as GOB were up 2-0, and also leading in shots, 18-12. The second started right where it left off for GOB as less than a minute in Kennis Sloan would tap in a cross crease pass, 3-0. Elise Fournier would get the ball on the wing, cut to the net and it took only three chances to bury it, 4-0. Pat Charette would stop the bleeding as he buried the loose ball in front, 4-1. Well the rest of the half was all GOB and a lot of saves from Dan Spence. He couldn't save them all as Jeff Levey would bang home a rebound and give GOB the 5-1 victory as they claim their first HTBHL crown.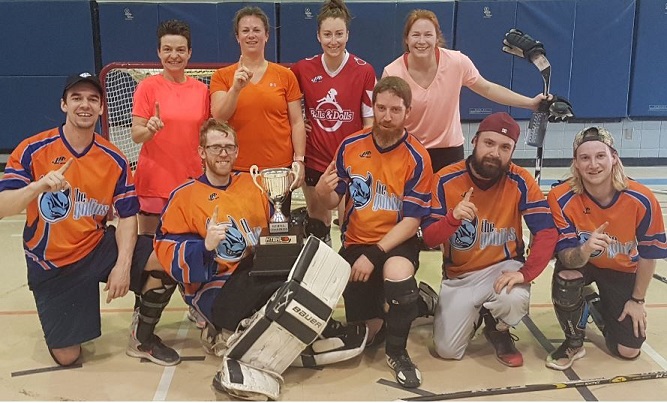 No ReGretzkies (6) vs The Price is Right (7)
Our next game saw the Low-B final as NR were taking on TPIR, in this high scoring affair that almost had more goals than the other three combined. NR would open the scoring as Shawn Weller would bury it in close. Christine Paris would even it up as she banged home a rebound in front. Francois St-Jacques would wrist one, short side, 2-1. Greg Sutherland would backhand one home, top corner and make it 3-1. Mark Laurin would bury a point shot, while on the power play, making it 3-2. Before the half was over, Sutherland would beat the buzzer with a one-timer making it 4-2 as we were headed into the break. NR were trailing in goals; but lead in shots 16-11. F. St-Jacques would get the opening goal of the half as he one-timed a pass from the corner, 5-2. Paris would get another one as she tapped in a cross crease pass, 6-2. Laurin would get the next two goals, ten minutes apart; first, he dove for the ball and tapped it past the sprawling goaltender. Next, he would get a wrister on net from his own end, that just eluded the keeper, 6-4. Jake Hardwick would get the ball and step over half and wrist it home, 6-5. Paris would tip a shot and fool the keeper, 7-5. With a little over a minute remaining, Hardwick would score from a spin-o-rama, 7-6. With the goalie pulled and eyes wide, F. St-Jacques would be hero and score into the empty net securing his team the 8-6 victory.
Suds, Buds and Windmills (4) vs Bar Down Bandits (3)
Here we had it the High-B finals, with two teams that played very strong all year. SBW was taking on BDB, in the battle of the three-named teams. With less than a minute already played, Krystle would one-time a pass in front past the keeper, 1-0. About ten minutes later, Krystle was at it again as she wristed one home from the slot, 2-0. A couple minutes later, Dylan Cundell would put a filthy wrister past the keeper. That's how it looked as SBW were up 3-0, and also in shots, 12-6. The second half was goaltender heavy as they were stellar and stopped all but two shots. Steven Howlett would cut to the middle and tap it past the sprawling keeper, 3-1. Cundell would get that one back as he wristed it home making it 4-2. Well if you can count, which I'm guessing is yes, you know that is all the goals scored this half as defense was stellar on both ends and so were the masked men as SBW take the High-B final, 4-2.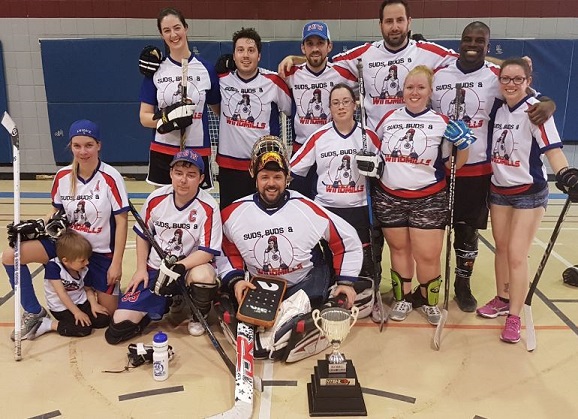 The Robinson's (2) vs Dirty Birds (1)
Our final game of the playoffs saw the High-A final as TR were taking on DB in this match-up that was tighter than a snare drum. Something interesting to note on the day, every underdog would win their match-up… could the trend continue? Let's find out. DB would open the scoring, about four minutes into the half as Lyne Martin would pick-up a rebound that rang off the post and tap in the easy goal, 1-0. Lots of defense would happen and no more goals were scored, until with about three minutes remaining, Claude Blondeau would wrist one home, while in front, to make it 2-0. That's how it would stand as DB were up 2-0, while also leading in shots, 21-16. This was it, the last twenty minutes of 2019 Winter ball hockey, could DB hold on? Would TR make a spirited comeback? Well, let's get to it… Mich Kabouchi would get TR to within 1 as he blasted it home, from the middle, 2-1. C. Blondeau would intercept a pass and wrist it home, extending the lead to 3-1. M. Kabouchi was at it again as he tapped in a rebound off the back wall, 3-2. DB would get back-to-back goals as Simon Landreville would one-time it home in front; Alyssa Magliocco would tap it into an empty net making it 5-2. Pat Boivin would get one back with a one-timer, but it wasn't enough as the top seed of the A takes their crown and win the High-A finals, 5-3.