Hat Trick Ball Hockey League
Summer Coed Gym - Thursday
LAST CALL for our golf tourney on July 28th! Looking for golfers or prizes. All proceeds going to the Heart Institute. If you can help in any way, please contact dan@htbhl.com
Our season has come to an end and did so with a real good championship game! Before we get to it, HTBHL would like to thank each and every one of you for participating. We saw some new faces on the floor this season and all were good people!
We want to also thank Steve Toste for scorekeeping! It is not an easy task but you did a great job and we appreciate every bit of it. Also, although not all of you will agree, we want to thank our referees who have the hardest job in the world. Without your efforts there is no league, so thank you!
Lastly, we want to thank all captains who take the time to organize their teams and spares each and every week. Players often take you for granted but we know the work you put in to it and thank you for doing it.
To check out the winning team, continue reading the recap below or jump ahead to see their picture here: www.facebook.com/htbhl
Now, onto the recaps:
Whalers (1) vs Move B**** Getzlaf the Way (4)
In the Championship game we had the Whalers taking on the surprising Move B Getzlaf the Way. This game was tight checking most of the game with both teams taking turns holding the play and endless pressure on their opponents. Scoring opened up just 5 minutes in when Jess would send a pass across on a 2 on 1 and Dan would one time it low glove. That was all the scoring in the first half. In the Second the Whalers would go up 2 as Jess would out battle a couple defenders in the corner and walk out fire a shot that deflected of the D-man's stick and into the top shelf. Move B would get one back as Warren would not be denied with his tenacity to get one out working and out running three defenders and chasing down the ball before cutting into the slot and sneaking one 5-hole. Whalers would regain their 2 goal lead as Dan would send a pass back as he did many times this season to Steve for his wicked shit from the point into the low blocker side. Just under a minute left Warren would keep pounding away shot after shot in front of the net before finally scoring on the 4th rebound. Whalers would hold on and win the championship 3-2. Both goalies were outstanding in this one. Congrats to both teams for a fantastic and clean game.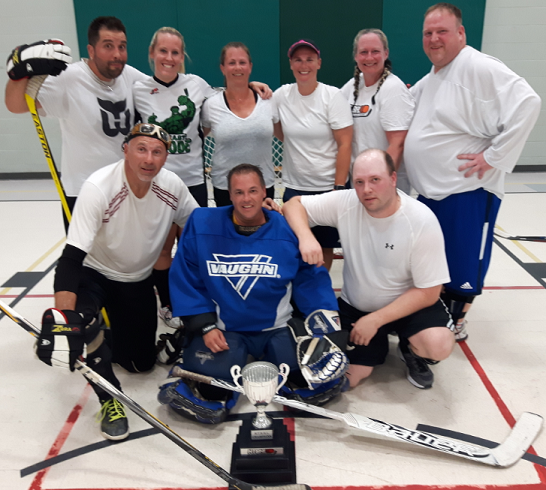 Hidden Secrets vs Just the Tip
In the other game we had Hidden Secrets taking on Just the Tip. Just the Tip pulled out into the lead but in the end Hidden Secrets would fight back from a deep hole and win this barn burner 8-7 in a shootout to claim 5th spot.
Until next season, keep your stick on the floor.